PRIZES
All participants (having raised the minimum sum of $275) will become eligible for the prize draws!
We will raffle more than 40 prizes including:
1 pair of tickets to the Bell Center for the Montreal Canadiens game of March 19th, 2022
with access to the press galery with well known reporters Dany Dubé and Martin McGuire
12 TRUE hockey sticks
3 commented goals by well known hockey reporters Dany Dubé and Martin McGuire
1 Blue Sport basket of products
4 Brotherhood Beer cases
18 Captodor pouches including:

An Odor destroyer 240ml
ULTRA shower gel 400ml
Hand pyrifying hydro-gel 90ml

3 dozen L'Oréal After shave products



---
The Jean-Pagé Cup awarded to the most legendary fundraiser
The Jean-Pagé Cup is awarded to the team at the top of the standings for collecting donations.
Won in 2021 by the Essoufflés de Victoriaville, the Jean-Pagé Cup could be yours!
A ranking of participants will be automatically updated according to the total amount of donations collected.
In addition to the Jean-Pagé Cup, the participant (individual, team or league) who wins the general classification will also receive twelve PROCURE hockey jerseys.
To consult the general classification - Click here.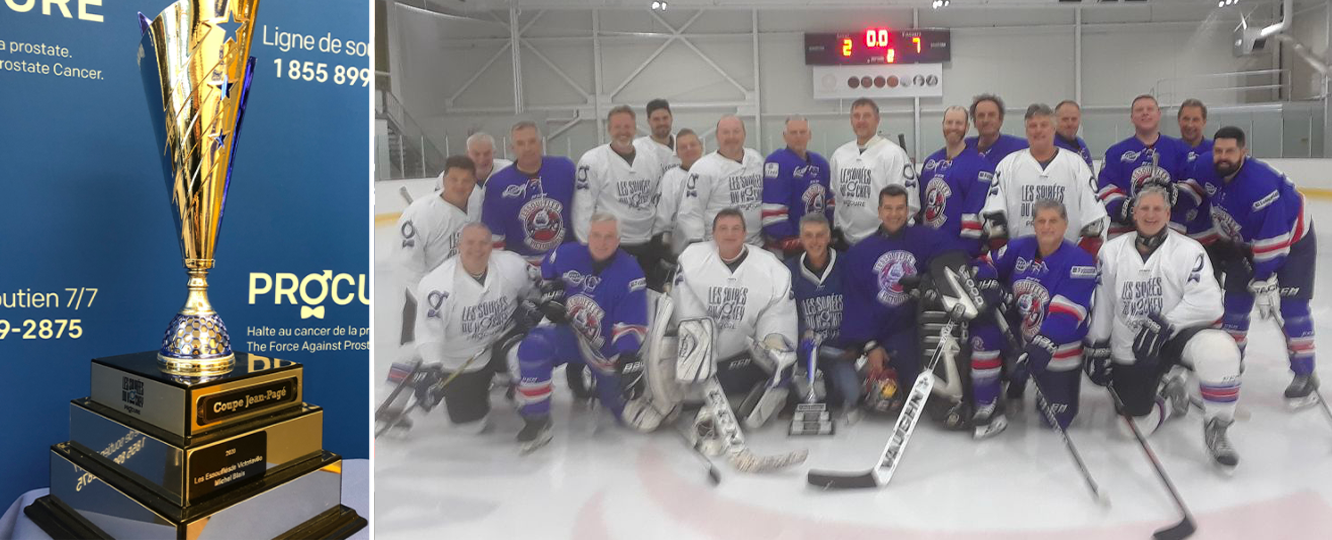 * Team on the picture: LES ESSOUFFLÉS DE VICTORIAVILLE