Prizes To Win
DESCRIPTION OF PRIZES TO WIN
Grand Prize - Play a game with your team at the Bell Center (valued at 8000$)
All members of the LEGENDS league (who have raised over 5000$) become eligible to participate in the Grand Prize draw, a hockey game for 2 teams of 11 on the ice of the Bell Center, in fall 2021, for a total prize value of 8000$!
Why this experience is unforgettable :
The teams will be playing in the official Canadien jerseys;
Access to the chambers of the Arena ;
Our Honoray President, Dany Dubé, sports commentator and radio host will be present.
If the health and sanitation standards don't permit for the event to be held, it will be postponed to an alternate date.
Second Prize - Win a full hockey gear from CCM (valued at 2000$)
All members of the PRO league (who have raised over 1000$)will become eligible to the Prize draw for the full CCM hockey gear valued at 2 000$ (prize details are to follow).
To see the general ranking - click here.
Third Prize - Win a Play by Play of your goal
All members of the Semi-PRO league (who have raised over 500$) will become eligible to the Third Prize draw, a play by play of your goal of three players (2 passors and 1 scorer), by the radiohosts Dany Dubé and Martin McGuire!
The Jean-Pagé Cup awarded to the fundraising champion
Among the LEGENDS league, the Jean-Pagé Cup is awarded to the team at the top of the standings for its collection of donations. Won in 2020 by Les Essoufflés de Victoriaville, the Jean-Pagé Cup could be yours! For this revisited edition, Les Essouflés are putting their title back on the line: will you be able to surpass their fundraising?
A ranking of participants will be automatically updated according to the total amount of donations collected. In addition to the Jean-Pagé Cup, the participant (individual, team or league) who wins the overall ranking will also receive eleven hockey jerseys in the colors of Les Soirées du Hockey PROCURE.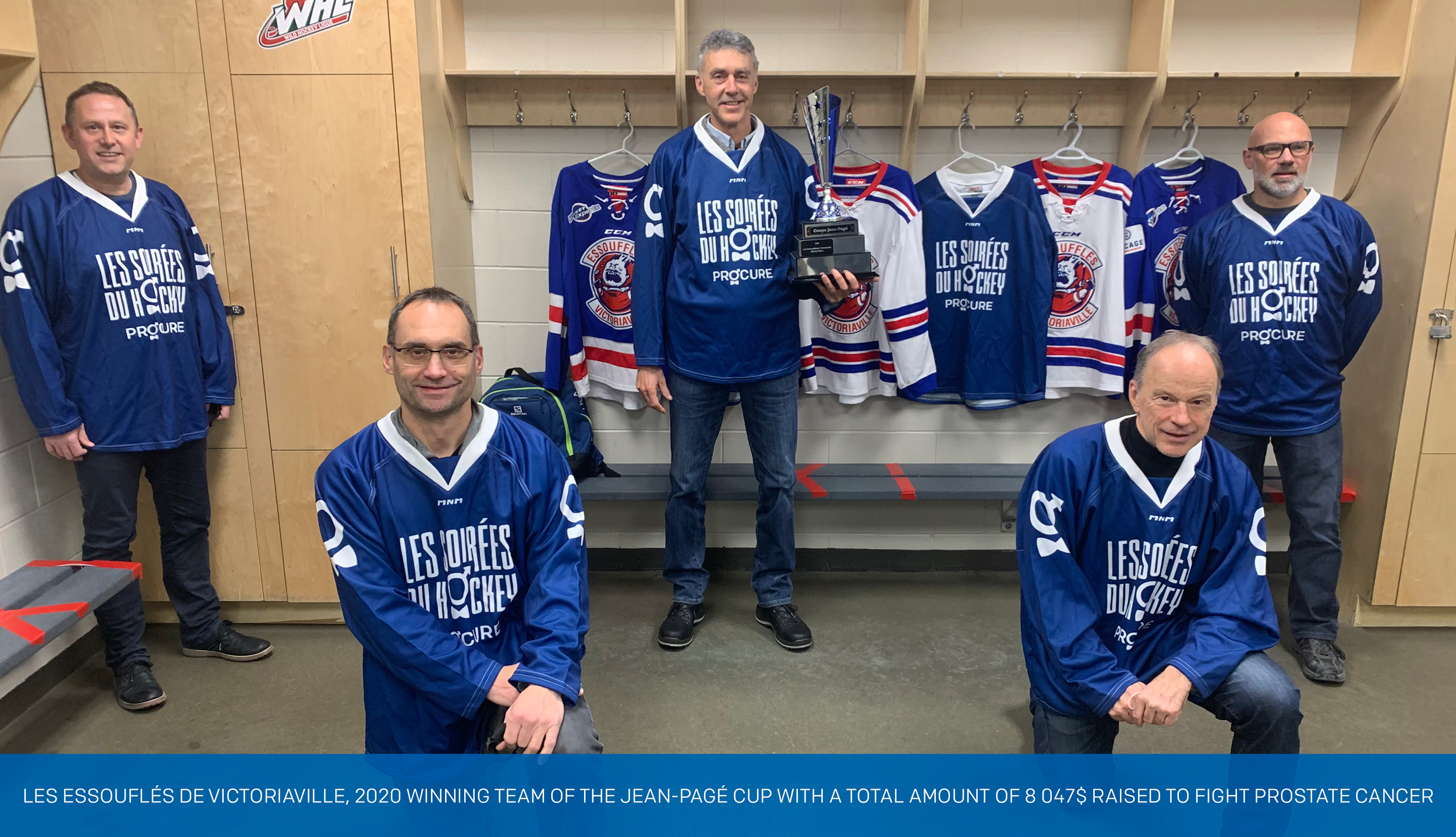 I want to register
Donors
1 month ago
Golf Victoriaville
6 months ago
Groupe Guerette
6 months ago
Jacques Gravel
6 months ago
Terry Landry
6 months ago
Maxime Brossard